Description
ENH12864J-1-B is a monochrome 128x64 graphic LCD display module with white backlight, which is having the outline dimension with 93(L) * 70(W) * Max 13.5(T) mm. This 128x64 graphic LCD display is built in with 0107 and 0108 controller IC. ENH12864J-1-B supports 8-bit MPU interface. This module can be operating at temperatures from -20℃ to +70℃; its storage temperatures range from -30℃ to +80℃.
Specification
128x64 dots LCD Display
STN (Blue), Negative, Transmissive
Duty:1/64. Bias:1/9. VOP=10.5V
Viewing Angle: 6:00
Drive Voltage: 5.0V
Operating Temperature: -20~70℃
Storage Temperature: -30~80℃
White Backlight
Drive IC: 0108, 0107
RoHS Compliant
Please contact us for datasheet and programming.
Features
-Resolution: 128*64
-Interface: 8-bit MPU interface
-Outline Dimension: 93(L) * 70(W) * Max 13.5(T)mm
-Viewing Area: 70.7(L) * 38.8( W)mm
-Dot Size: 0.48(W) × 0.48(H)mm
-Dot Pitch: 0.52(W) × 0.52(H)mm
LCD Drawing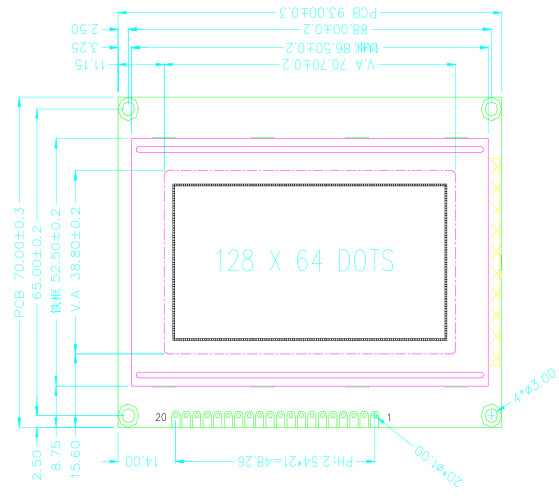 PIN Definition