160x32 graphic LCD module
Description
160x32 graphic LCD module, built-in ST7920+ST7921 or compatible controller, 8 bit bus MPU interface. Many of our OLED display modules use an industry standard compatible controller, if you are looking for a industry LCD displays, a 160*32 graphic LCD module might be exactly what you need, also this LCD display with standard 16 pin 0.48*0.48mm pitch.
Features
-Display Type: 160X32 DOTS
-LCD Type: STN(GARY),POSITIVE,TRANSFLECTIVE
-Driver Condition: LCD Module : 1/32Duty , 1/5Bias
-Viewing Direction: 6 O'clock
-Backlight Type: SIDE WHITE
-Interface: 8BIT bus MPU interface
-Driver IC: ST7920+ST7921
Mechanical Specifications
-Outline Dimension: 116(L) *35(W) * Max 11.8 (T)mm
-Viewing Area: 83(L) * 18.5( W)
-Dot Size (W*H): 0.44*0.44mm
-Dot Pitch (W*H): 0.48*0.48mm
More Details
160x32 dots LCD Display
STN (Grey), Positive, Transflective
Duty:1/32. Bias:1/5. VOP=4.4V
Viewing Angle: 6:00
Drive Voltage: 5.0V
Operating Temperature: -20~70℃
Storage Temperature: -30~80℃
White Backlight
Drive IC: ST7920
RoHS Compliant
Please contact us for datasheet and programming.
LCD Drawing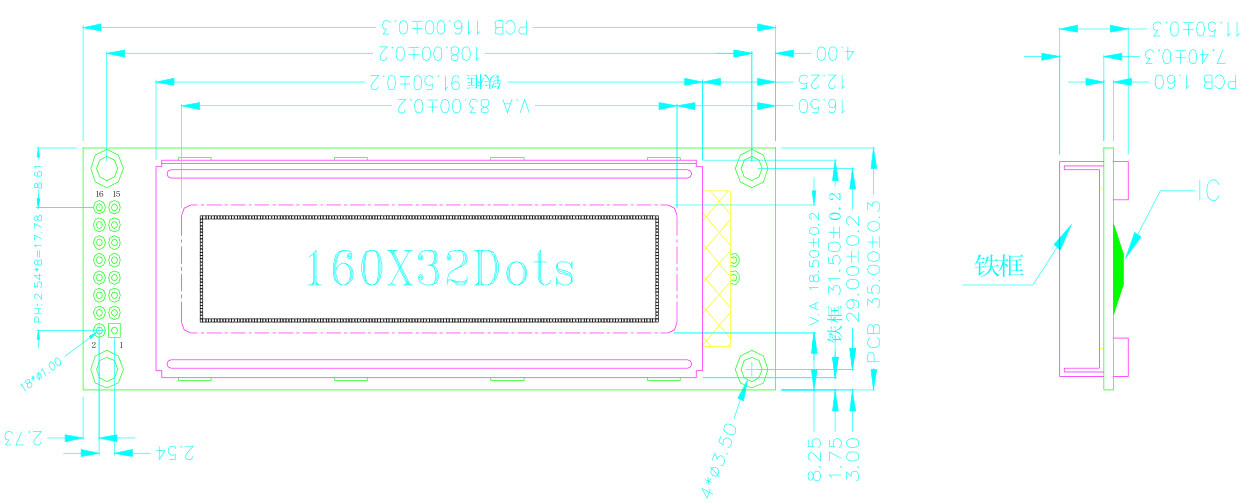 PIN Definition