20x4 Blue Background Character LCD Display
DESCRIPTION
Enrich is a leading manufacturer of character LCD display modules in China. We offer many standard sizes including 8x1 characters, 8x2 characters, 16x4 characters, 20x4 characters plus many more. Whether you're looking for a small lcd character display module for a little device or a large character lcd display for signage, we have them. Many of our character lcd modules use a standard HD44780 controller, so they can be quickly integrated into a new product or used as a replacement in your existing products. Sorted by features, display technology & dimensions.
TECHNICAL SPECS
20x4 Blue Background Character LCD Display

Outline Dimension

98(L) * 60(W) * Max 13.2(T) mm

Viewing Area

77(L) * 25.2( W) mm

Control IC

SPLC780D

Display Type

20 characters x 4 lines

LCD Type

STN, NEGATIVE(BLUE), TRANSMISSIVE

Driver Condition

LCD Module: 1/16Duty , 1/5Bias

Interface

8-bit MPU interface

Viewing Direction

6 O'clock

Backlight Type

SIDE WHIET

VOP

4.2V

OPERATING TEMPERATURE

-20~70℃

STORAGE TEMPERATURE

-30~80℃

We have a professional technical team, any questions please share with us.
DETAILS OF CORE TECHNOLOGY
-LCD Module Test Program
-Schematic Diagram
-LCD Data Sheet
PRODUCT STRUCTURE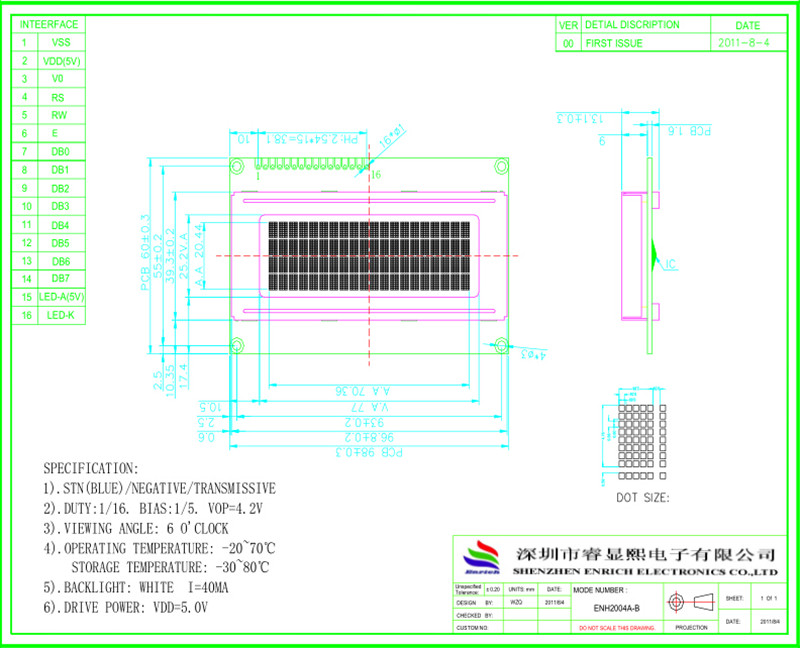 IMAGE DETAILS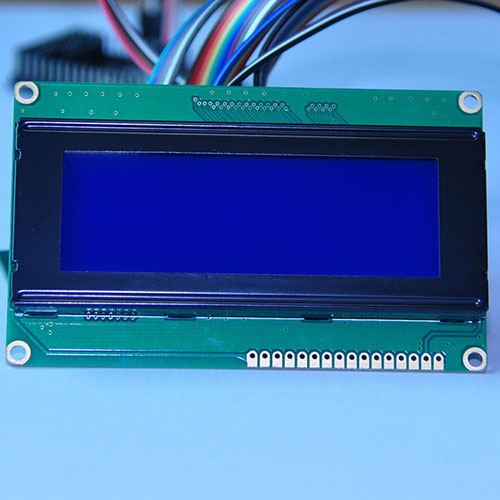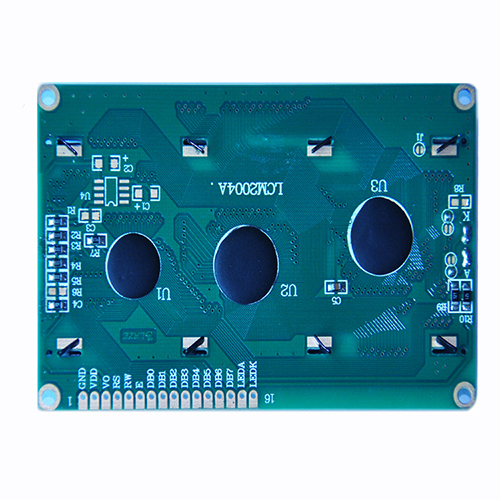 APPLICATIONS
Enrich OLED Modules are perfect for car equipment, car dashboard, car audio, car clock, car door display system, water, sewing machine, meter, ammeter, instrument tuner, external hard disk, printers, wearable devices, E-cigarette, white goods, home applications, industrial instrument, DJ mixer, etc.
Besides, we provide many solutions such as I2C OLED Display, SPI OLED Display, SSD1306 OLED Display and Micro OLED, such as 0.49" OLED, 0.91" OLED, 0.95" OLED, 0.96" OLED and so on.
CONTACT Us